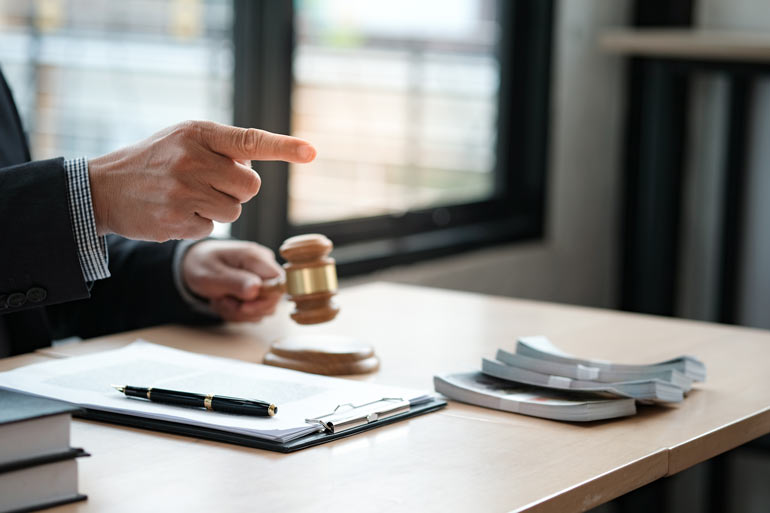 If you've been arrested, your biggest fear (aside from the possibility of a criminal record) is the prospect of remaining in custody. In Alberta, you have the right to a release hearing within 24 hours, but what if you have concerns about making bail? If you aren't successful, do you have to stay detained until your case is resolved? 
The LAA Justice of the Peace Bail Program was founded in 2018 to simplify the bail application process for anyone arrested in Alberta. In this blog, we'll explain your right to bail and how the Justice of the Peace Bail Program works.
The right to reasonable bail
Section 11(e) of the Charter gives a detained person the right to not be denied reasonable bail without justification. If the police charge someone and believe that continued detention is warranted, that individual has the right to a bail hearing within 24 hours, without any unreasonable delay. 
During the subsequent bail hearing, the judge or justice of the peace will decide whether the person should be released before trial and if so, under what bail conditions. 
What is the LAA Justice of the Peace Bail Program? 
The LAA Justice of the Peace Bail Program was founded in April 2018 and took effect across the province by September of that year. It ensures that anyone who has been arrested in Alberta and is making their first-appearance bail application will have access to defence counsel in the form of a Legal Aid lawyer.
Prior to the program's enactment, only seven to ten percent of defendants had legal representation during their bail hearings. As a result, remand centres were often at capacity and hundreds of defendants had to put their lives on hold until their case was decided. Today, the program makes bail lawyers accessible to those who need or request advice, information, and representation, without financial eligibility requirements being taken into account.
Duty counsel lawyers in Calgary and Edmonton are available 16 hours a day (8:00 a.m. to midnight), seven days a week. They use video and audio technology to communicate with their clients via a secure electronic system, as well as video conference into the courtroom. In addition to adjourning matters, they make sure that clients understand their fundamental rights, including their right to a release hearing within 24 hours after remand.
How to apply for legal aid and obtain your own representation
When you are in police custody, the detachment can provide you with Legal Aid Alberta contact information so you can speak to a lawyer who can advise and/or represent you at your bail hearing. Even if you don't qualify for Legal Aid or decide to represent yourself, bail lawyers can provide legal advice over the phone free of charge and duty counsel lawyers can provide in-person support in the courtroom.
Why is access to an Alberta bail lawyer important?
The bail hearing is the first step in the court process and, unless there is an error in law or a change in circumstances, you typically have only one chance at a bail hearing . Alberta criminal trials are significantly delayed at the moment and it can take months for your case to be heard. If you are not granted bail, you will have to await trial in a remand centre, unable to work and separated from friends and family. Even if you are granted  bail, you could be subject to highly restrictive conditions that impact your life.
There are many ways in which a lawyer can help you through the bail program. For example:
If the Crown prosecutor does not want you released on bail, your lawyer can advocate for your release. A lawyer can help negotiate the bail conditions for your release, with the goal of helping you avoid overly strict conditions that can be difficult to meet.
The next step after bail is a strong criminal defence
If you are granted bail, your next step should be contacting an Alberta criminal defence lawyer. At DDSG Criminal Law, we represent clients in a wide range of criminal matters and can advocate for you from the moment you are arrested until the day your case is resolved.
We have offices in Edmonton and Fort McMurray and regularly appear in courthouses across the province. Over the years, we have become familiar with the judges, Crown prosecutors, and police at these different locations and have the insights needed to mount the strongest defence against a criminal allegation. Contact us today for more information.